Manga • Administrators • Recent Changes • Style Guide • Layout Guide • New Pages • Help Wiki
Synopsis
Nanoka Kiba is a female high school student who 8 years ago escaped a near-death experience due to some supernatural circumstances. In the present, one day she again finds herself involved in dangerous supernatural events, but this time she is saved by the mysterious Mao—a young man who apparently came from another dimension.
Characters
Affiliates
Want to affiliate with us?
If you would like to become an affiliated site, please contact an administrator.

Discord
Helping Out
We're looking for people to help edit stubs and add New Pages to this wiki. If you have questions or would like a specific goal to focus on, feel free to contact the local Kitsunes97 or Zorianff9.
Latest Chapter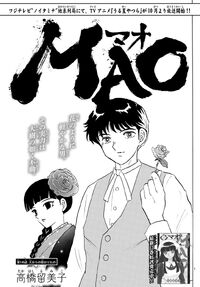 Chapter 145
Official Websites
 Other Encyclopaedic Sites